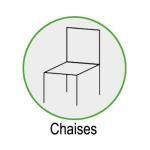 Reckinger own production:
Our carpentry workshop in Pommerloch produces individually made-to-measure chairs for you, which are exactly adapted to your body and enable you to sit in a healthy and comfortable way. When planning the chair, a test seat is used to determine your optimum sitting position, height, depth and width as well as the position of the armrests, and these are then precisely implemented during production. After completion, we will deliver the chair directly to your home.
Collinet:
Also from the best known chair manufacturer from France – Collinet – we exhibited some models in Pommerloch. Thanks to the rich variety of fabric, leather and wood collections, our customers can "tailor" their own individual chair.
Längle & Hagspiel:
The traditional Austrian company Längle & Hagspiel has a large range of tables and chairs: from benches to wooden tables, from chairs for the elderly to dining chairs and restaurant chairs with flat upholstery, L&H supplies high-quality chairs in many colour and material variations.