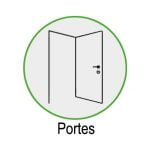 Doors
Whether doors from our own production or doors from well-known manufacturers; sliding doors; doors with certification for fire protection, sound insulation, radiation protection and burglary protection; thermo-insulated up to fully automated: We plan, deliver and install the doors according to your requirements.
Front doors and external doors
Your individually designed front door, delivered and installed by us, is the calling card of your house! We manufacture wooden front doors made to measure to match your house, equipped with high-quality security fittings and the best thermal insulation as well as robust surfaces – whether antique, classic or modern – thanks to the drawings and photomontages we produce, Grâce à des dessins et des photomontages réalisés par nos soins, vous pouvez composer votre propre porte.
Interior doors:
Whether antique, classic, modern or futuristic: we supply and install your room door exactly according to your wishes. We will be happy to advise you on the variety of models, colours and functionalities in our doors exhibition. Georges will send the new leaf catalogues as soon as they are delivered by Köhnlein.
Come and discover our exhibition of interior doors in our Showroom and let yourself be advised on the diversity of models, colors and usefulness.
Glass doors:
Our experienced fitters supply and install all-glass doors using sandblasting, painting, laser or laminated glass technology. High-quality designer fittings guarantee a long and carefree function. Easy-care surfaces are achieved by nano-coatings and laser technology. Laminated, tempered or printed glass, the style of the glass determines the level of transparency. Safety glass is a matter of course for us. Resistant and easy-care surfaces thanks to special coatings.
Gallery: Classic house and exterior doors
Gallery: Modern house and exterior doors
Gallery: Classic interior doors
Köhnlein Turen Gallery
Gallery: Modern interior doors
Galerie Köhnlein Interior doors