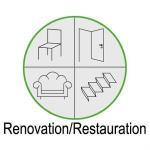 Renovations / Restorations
At least 2 of our carpenters are involved in the restoration and renovation of all imaginable wooden parts such as wooden sculptures, wooden furniture, parquet, stairs, doors, etc. Full time employed. Missing or bad parts will be reproduced in style if desired. Sandblasting, stripping and building new surfaces of parquet, room doors, front doors, seating furniture, etc. is one of our strengths. We purchase suitable antique fittings from specialized suppliers from all over Europe. The gluing of new seating furniture and the procurement of the upholstery selected by you is also part of our services.
Sandblasting, stripping and construction of new surfaces on parquet floors, bedroom doors, entrance doors, seats, etc. are one of our strengths. We source suitable antique fittings from specialist suppliers across Europe. Our services include reseating the seats and purchasing the upholstery you choose.
Galerie Rénovations/Restorations